CV
Education
2020 M.F.A. in Fine Arts at Seoul National University of Science and Technology, Seoul, Korea
2011 B.F.A. in Painting at Hongik University, Seoul, Korea
Solo Exhibition
2023
lucent Eraser, daily Silver, Gallery Kabinett, Seoul, Korea

2021
rays Blooming, Gallery Kabinett, Seoul, Korea
2019
Iridescent Fog, One Four, Seoul, Korea
2017
Parallel Grounds, Chapter II, Seoul, Korea
2014
White Void-Void' reaction, Gallery Factory, Seoul, Korea
Group Exhibition
2023
Silver Sound, Museum Visitor, Seoul, Korea
2022
ART BUY, Glass Haus in Hyundai Department, Seoul, Korea
Captured Moments, Gallery Kabinett, Seoul, Korea
Breath of Spring, PIPE Gallery, Seoul, Korea
2021
EVERY, DAY, TODAY, TOMORROW, PACK, Sejong-Ulsan-Busan-Seoul, Korea
DOOSAN ART LAB 2021, Doosan gallery, Seoul, korea
2020
Untact, P21, Seoul, korea
ASMR, D gallerie, Jakarta, Indonesia
2019
THE SCRAP-HAPPY TOGETHER, The Scrap, Seoul, korea
EVER-CHANGING, One Four, Seoul, korea
2018
VIEWERs, Boan1942, Seoul, korea
PACK2018, Space413, Seoul, korea
How Many Steps, Geumchon Art Factory, Seoul, Korea
THE SCRAP, Culture Station Seoul 284, Seoul, Korea
Amusement of City-Wandering, 021Gallery, Daegu, Korea
2017
8 Works, Collections of the Artists, Audio Visual Pavilion, Seoul, Korea
LOTUS LAND, Asia Culture Center, Gwangju, Korea
2016
After & Before, SeoulTech Museum of Art, Seoul, Korea
Polar Night, R3028, Seoul, Korea
2015
BETA ABSTRACT, No Toilet, Seoul, Korea
GOODS 2015, Sejong Center, Seoul, Korea
2013
99°C+1, Seoul Art Space Seogyo, Seoul, Korea

2012-3
Project 72-1, Former-Hongik Attached Elementary School, Seoul, Korea
2012
Crab Walk: We are left, We are right, Space CAN, Seoul, Korea
Awards
2021
Grant for DOOSAN ART LAB 2021, Doosan Art Center, Korea
2019
Grant for Solo Exhibition, SFAC, Korea
2018
Grant for Seoul youth art group Project, SFAC, Korea {eyer}
2017
Grant for Solo Exhibition, SFAC, Korea

2013
Seoul Art Space Seogyo with NART Project 99°C
Artist Residencies
2017-2018
Geumchon Art Factory, Seoul, Korea
Biography
오희원은 서울을 기반으로 활동하며, 은분 캔버스 바탕에 유성 색연필을 드로잉 한 'Dispersion(blooming), 국문: 분산(만발한)' 추상 회화를 주요하게 소개한다. 빛의 반사, 은분의 투명성에 반응하는 화면은 관찰자의 시각에 따라 화면과 밀접한 상호작용을 일으키고 회화는 바라본 유체의 자연을 물질로 가시화하면서 대기, 빛의 번짐과 같은 비가시적 생성물들의 회화적 출현을 의도한다. 그러한 시선에 기반한 투명한 순간들을 화면에 투영해오고 있다. <rays Blooming>(갤러리 까비넷, 2021), <Doosan ART LAB>(두산갤러리 2021), <untact>(P21 2020) 등 다수의 기획 및 단체전에 참여하였다.
Heewon Oh based in Seoul mainly introduces Dispersion (blooming), an abstract painting with oil color pencil drawing on silver powder canvas. The canvas responds to light reflection and silver powder transparency causes close interaction with the canvas according to an audience's point of view.
The drawing visualizes the nature of the fluid that an audience views as material, and it intends a presentation as an artwork of invisible products such as the atmosphere and light spread. Transparent moments based on such viewing experiences have been expressed on the canvas. Exhibitions participated include Rays Blooming (Gallery Kabinett, 2021), Doosan ART LAB (Doosan Art Center, 2021), Untact (P21, 2020), etc.
Education
2020 M.F.A. in Fine Arts at Seoul National University of Science and Technology, Seoul, Korea
2011 B.F.A. in Painting at Hongik University, Seoul, Korea
Solo Exhibition
2023
lucent Eraser, daily Silver, Gallery Kabinett, Seoul, Korea

2021
rays Blooming, Gallery Kabinett, Seoul, Korea
2019
Iridescent Fog, One Four, Seoul, Korea
2017
Parallel Grounds, Chapter II, Seoul, Korea
2014
White Void-Void' reaction, Gallery Factory, Seoul, Korea
Group Exhibition
2023
Silver Sound, Museum Visitor, Seoul, Korea
2022
ART BUY, Glass Haus in Hyundai Department, Seoul, Korea
Captured Moments, Gallery Kabinett, Seoul, Korea
Breath of Spring, PIPE Gallery, Seoul, Korea
2021
EVERY, DAY, TODAY, TOMORROW, PACK, Sejong-Ulsan-Busan-Seoul, Korea
DOOSAN ART LAB 2021, Doosan gallery, Seoul, korea
2020
Untact, P21, Seoul, korea
ASMR, D gallerie, Jakarta, Indonesia
2019
THE SCRAP-HAPPY TOGETHER, The Scrap, Seoul, korea
EVER-CHANGING, One Four, Seoul, korea
2018
VIEWERs, Boan1942, Seoul, korea
PACK2018, Space413, Seoul, korea
How Many Steps, Geumchon Art Factory, Seoul, Korea
THE SCRAP, Culture Station Seoul 284, Seoul, Korea
Amusement of City-Wandering, 021Gallery, Daegu, Korea
2017
8 Works, Collections of the Artists, Audio Visual Pavilion, Seoul, Korea
LOTUS LAND, Asia Culture Center, Gwangju, Korea
2016
After & Before, SeoulTech Museum of Art, Seoul, Korea
Polar Night, R3028, Seoul, Korea
2015
BETA ABSTRACT, No Toilet, Seoul, Korea
GOODS 2015, Sejong Center, Seoul, Korea
2013
99°C+1, Seoul Art Space Seogyo, Seoul, Korea

2012-3
Project 72-1, Former-Hongik Attached Elementary School, Seoul, Korea
2012
Crab Walk: We are left, We are right, Space CAN, Seoul, Korea
Awards
2021
Grant for DOOSAN ART LAB 2021, Doosan Art Center, Korea
2019
Grant for Solo Exhibition, SFAC, Korea
2018
Grant for Seoul youth art group Project, SFAC, Korea {eyer}
2017
Grant for Solo Exhibition, SFAC, Korea

2013
Seoul Art Space Seogyo with NART Project 99°C
Artist Residencies
2017-2018
Geumchon Art Factory, Seoul, Korea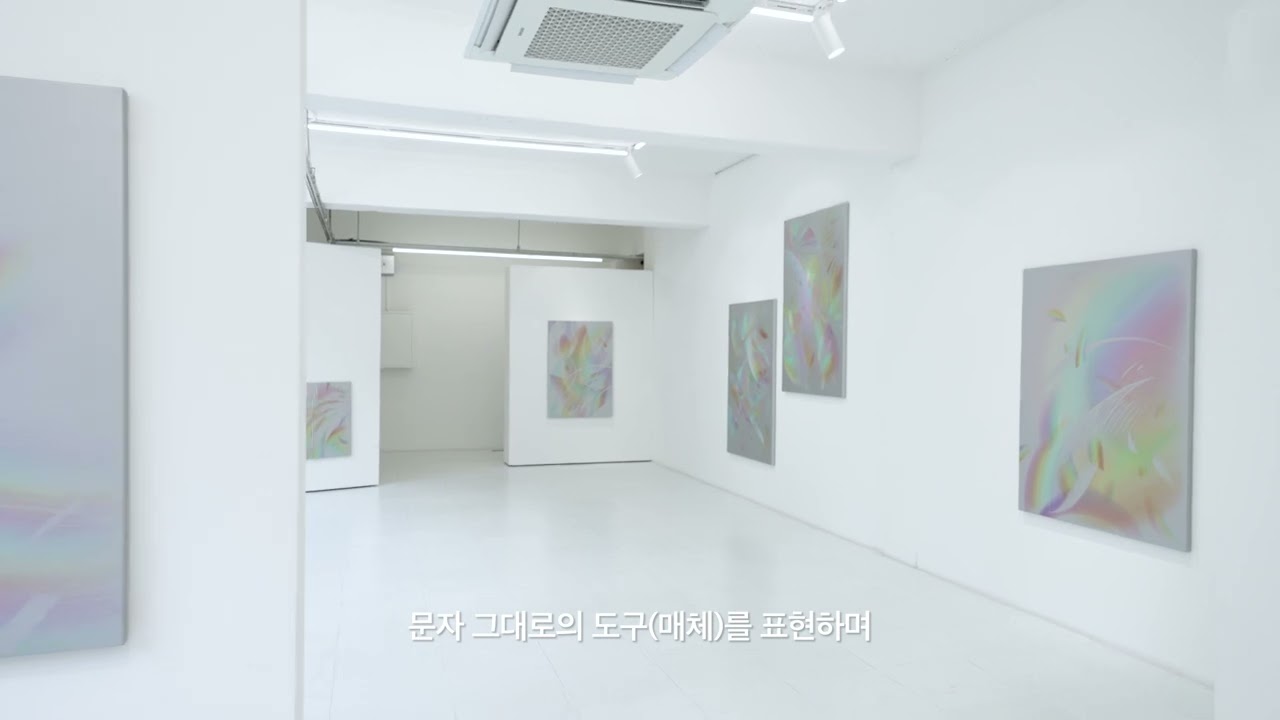 Dispersion(erasing) 2023
Colorpencil on silver acrylic paint canvas 130×97cm
Dispersion(erasing) 2023
Colorpencil on silver acrylic paint canvas 116×80.3cm
Dispersion(erasing) 2023
Colorpencil on silver acrylic paint canvas 130×162cm
Dispersion(blooming) 2021
Colorpencil on silver acrylic paint canvas 80.3×53 cm
Dispersion(blooming) 2021
Colorpencil on silver acrylic paint canvas 162×130.3 cm
Dispersion(erasing) 2023
Colorpencil on silver acrylic paint canvas 145.5×97cm
Dispersion(frozen) 2023
Colorpencil on silver acrylic paint canvas 91×50cm
Dispersion(blooming) 2021
Colorpencil on silver acrylic paint canvas 162×130.3 cm